Introduction
Reddit is a popular social media platform that hosts a vast array of content, including entertaining videos, informative clips, and engaging GIFs. If you've stumbled upon a captivating video on Reddit that you'd like to save for offline viewing or share with others, the Reddit Downloader tool is here to assist you. In this article, we will explore the features and benefits of the Reddit Downloader and guide you through the process of using this powerful tool to download Reddit videos effortlessly.
Reddit downloader
Through Reddit Downloader, users can save videos and audio in 3GP, MP4, M4A and MP4 and other formats. Additionally, to download the video fast and for free, you can follow simple steps without registration. Also, 100% secure to work It is 100% safe to perform. You can play the video file without worrying about any virus infiltrating your devices.
The Advantages of Using Reddit Downloader
Reddit Downloader is a specialized tool designed to enhance your Reddit experience by enabling you to download videos from the platform. Here are some key advantages of using Reddit Downloader:
Offline Viewing: By downloading Reddit videos, you can enjoy them offline at any time, even without an internet connection. This is particularly useful when you're on the move or in areas with limited internet access.
Save and Share Your Favorite Content: Reddit hosts a diverse range of content, from funny videos to educational tutorials and heartwarming stories. With Reddit Downloader, you can save your favorite videos and easily share them with others through social media, messaging apps, or email. Spread the joy and knowledge of the videos you love.
Convenient Access: By downloading Reddit videos, you can keep them organized and readily accessible on your device. Create a personal collection of videos that inspire you, make you laugh, or provide valuable information, and access them whenever you want, without relying on an internet connection.
How to Use Reddit Downloader
Using Reddit Downloader is a straightforward process. Follow these steps to download Reddit videos:
Step 1: Find the Reddit Video – Start by visiting the Reddit website (www.reddit.com) or accessing the video through a shared link. Explore the platform's various subreddits and posts to find the video you want to download.
Step 2: Copy the Video URL – Once you've found the video you want to download, click on the post to open it. Look for the video within the post and click on the "Share" button or the "Copy Link" option to obtain the video URL. Alternatively, you can copy the URL from your web browser's address bar.
Step 3: Visit Best Video Downloader – Open your web browser and go to "www.bestvideodownloader.net," the trusted website that hosts various downloaders, including the Reddit Downloader.
Step 4: Access Reddit Downloader – On the Best Video Downloader website, locate the section dedicated to Reddit Downloader. Click on the provided link or button to access the Reddit Downloader tool.
Step 5: Paste the Video URL – In the Reddit Downloader interface, you will find a designated field where you can paste the Reddit video URL. Right-click on the field and select "Paste," or use the keyboard shortcut "Ctrl + V" to insert the URL from your clipboard.
Step 6: Initiate the Download – After pasting the video URL, click on the "Download" button. Reddit Downloader will analyze the URL and fetch the video from Reddit's servers.
Step 7: Select Download Quality and Format – Reddit Downloader may provide you with options to choose the desired download quality and format for the video. Select the quality and format that meet your preferences and requirements.
Step 8: Start the Download – Once you have selected the download settings, click on the "Download" button to initiate the downloading process. Reddit Downloader will save the video to your designated download folder on your device.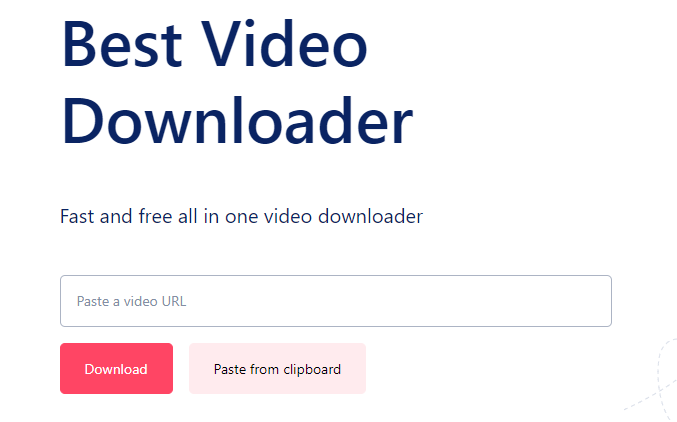 Explore Other Downloaders
In addition to Reddit Downloader, there are several other downloaders that cater to different platforms and content types. Here are some related downloaders you might find useful:
9GAG Downloader: 9GAG Downloader tools allow you to download funny videos and memes from the popular entertainment platform 9GAG. Paste the video URL, select the desired quality, and start the download.
Tumblr Downloader: Tumblr Downloader enables you to download various types of content, including images, GIFs, and videos, from the Tumblr platform. Paste the content URL, select the format, and download it to your device.
Share Chat Downloader: Share Chat Downloader tools enable you to download videos, images, and GIFs from the Share Chat platform, a popular social media app in India. Paste the content URL, select the format, and download it to your device.
Twitch Downloader: Twitch Downloader allows you to download live streams, VODs (Video on Demand), and clips from the Twitch platform. Paste the video URL, select the desired quality, and initiate the download.
Conclusion
By utilizing these related downloaders, you can expand your collection of entertaining and informative content from various platforms. Remember to use reputable websites and tools for a safe and seamless downloading experience. Visit "www.bestvideodownloader.net" today to access Reddit Downloader and explore other downloaders for an enhanced video downloading experience.